Focused on providing therapy that is client-centered, outcome driven, and trauma centered.
Behavioral Health Services
Midwest Refuah Health Center aims to be a one-stop solution for all your medical,
dental, and behavioral healthcare needs.
Learn more about our Behavioral Health Clinic.
The Behavioral Health Clinic at Midwest Refuah is focused on providing individual, family, couples, and group therapy that is client-centered, outcome driven, and trauma centered.
Ultimately, we believe that there is no one right way to heal and that good mental health is not just about symptom reduction but building positive self-esteem through realized potential. Our priority is the fit between clients and clinicians; therefore, we're open to diverse interventions and actively solicit your feedback.
Our program begins with assessing your needs and ensuring that you are placed with the provider who is best suited to helping you achieve your goals. We utilize outcome measures to continue to optimize your treatment and provide high-quality care.
For more information or to schedule an appointment:
Call (872) 270-5999 or email bhintake@midwestrefuah.org.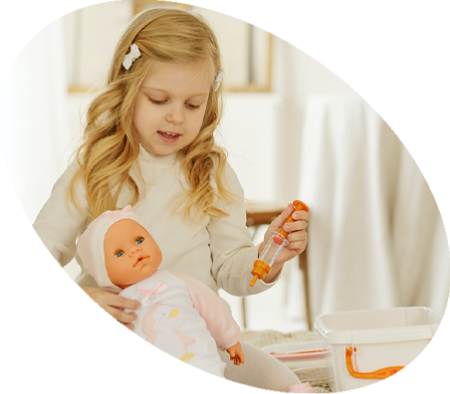 Two specialized programs
The Family Clinic
Focused on parenting, with a specific lens toward attunement to children, and dedicated to providing community members with the tools to raise healthy, happy, and functional families. The focus of this clinic is to offer a wellness-based approach to an issue that arises in the family rather than attend to just one individual within the unit — because often when one family member is struggling, all members of the family are impacted.
Ralla Klepak Clinic
A practice dedicated to Creative Arts Therapy and benefits of utilizing arts to increase the benefits of verbal therapy. Creative Arts Therapists are counselors and psychologists who use art to further the impact of talk therapy by engaging the body and mind differently through the materials of art, music, drama, or dance/movement. This can be beneficial for those who have tried verbal therapy before or who may not connect as easily through verbal communication.
Helping a family member who is struggling often has a positive impact on the entire household.
Behavioral Health- Where Healing Begins
We're proud of the highly trained staff working in our behavioral health clinic.
Stay updated on developments at MRHC.
Midwest Refuah Health Center launched with the Behavioral Health Clinic in 2022. We have since opened our Pediatric and Family Medicine clinics, but plans to expand our services over the coming months and years. To be notified of new departments and developments, please sign up for our email list.
JOIN OUR MAILING LIST