Focused on providing therapy that is client-centered, outcome driven, and trauma centered.
Behavioral Health Services
Midwest Refuah Health Center aims to be a one-stop solution for all your medical,
dental, and behavioral healthcare needs.
Learn more about our Behavioral Health Clinic.
The Behavioral Health Clinic at MRHC is focused on providing individual, family, couples, and group therapy that is client-centered, outcome driven, and trauma centered.
Ultimately, we believe that there is no one right way to heal and that good mental health is not just about symptom reduction but building positive self-esteem through realized potential. Our priority is the fit between clients and clinicians; therefore, we're open to diverse interventions and actively solicit your feedback.
Our program begins with assessing your needs and ensuring that you are placed with the provider who is best suited to helping you achieve your goals. We utilize outcome measures to continue to optimize your treatment and provide high-quality care.
For more information or to schedule an appointment:
Call (872) 270-5999 or email bhintake@midwestrefuah.org.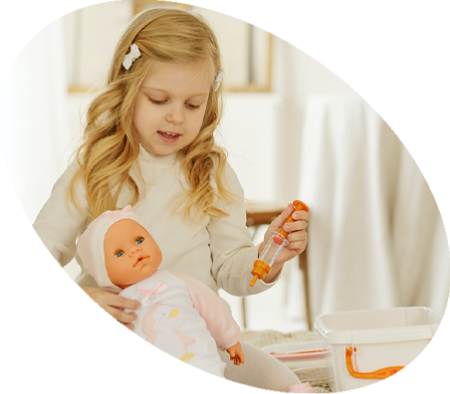 Two specialized programs
The Family Clinic
Focused on parenting, with a specific lens toward attunement to children, and dedicated to providing community members with the tools to raise healthy, happy, and functional families. The focus of this clinic is to offer a wellness-based approach to an issue that arises in the family rather than attend to just one individual within the unit — because often when one family member is struggling, all members of the family are impacted.
Ralla Klepak Clinic
A practice dedicated to Creative Arts Therapy and benefits of utilizing arts to increase the benefits of verbal therapy. Creative Arts Therapists are counselors and psychologists who use art to further the impact of talk therapy by engaging the body and mind differently through the materials of art, music, drama, or dance/movement. This can be beneficial for those who have tried verbal therapy before or who may not connect as easily through verbal communication.
Meet the Director
Dr. Marni Rosen, Psy-D ATR-BC
Midwest Refuah's Clinical Director Dr. Marni Rosen is a supervisor, consultant, and trainer on trauma-informed psychotherapy and Creative Arts Therapy. A Licensed Clinical Psychologist and Board Certified Art Therapist, she completed her postdoctoral fellowship at the Posttraumatic Stress Center in New Haven, CT and was a research assistant at Yale University. Dr. Rosen is passionate about providing a warm, culturally sensitive mental-health clinic for Chicago community members. Clients at Midwest Refuah can expect excellent clinical expertise, regardless of their income or insurance coverage. She hopes that Midwest Refuah becomes known as a home for the community's mental wellness.
Specialties:
Trauma consultation, trauma centered psychotherapy training and consultation, trauma informed education, art therapy consultation, clinical supervision, cognitive processing therapy, and self-care workshops.
Helping a family member who is struggling often has a positive impact on the entire household.
Frequently Asked Questions
Midwest Refuah's Behavioral Health clinic is currently headquartered in Suite 305 in the 6374 N. Lincoln Chicago IL 60659 medical building.
You should receive a phone call within 24 hours of your message or email. We are not open Saturday or Sunday; late Friday or weekend calls and emails will be returned on Monday.
When our receptionist reaches out, it is to collect basic information for our therapists to return your call. The receptionist will ask for your name, phone number, email, who will be the client, the best way to contact you, if they have permission to leave a message, best time to reach you, how you heard about us, and any information you are comfortable giving regarding your reason for calling. This phone call lasts 3-5 minutes. A therapist will then follow up with a screening call.
Midwest Refuah recognizes that good fit is important for clients to achieve the best results in therapy. We begin looking for your best match in what we call a "screening" phone call. This phone call lasts between 15-20 minutes. The therapist will ask some basic questions regarding the problem, history of therapy, interest in individual, family or couples therapy, preferences on type of therapy (i.e. arts based, gender of therapist, modality), and set up the intake appointment.
The intake call is often an in-person 50-minute session where the client and the therapist have time to delve into the reason the client is coming the therapy and determine if the therapist and the clinic is a good fit for the client. The therapist shares the informed consent of the practice and how the therapist would approach the particular issue the client is bringing to therapy. In this session, the therapist and client agree upon the primary issues that will be addressed in therapy and clarify the different areas that have been affected by that issue. In the following 1-2 sessions, the client and therapist generate specific goals within these areas that will turn into the plan for the treatment that is ongoing.
Using insurance requires a diagnosis. Your therapist will work with you to understand what diagnosis is being used and why. Nothing in your record should be a surprise to you. Midwest Refuah believes in transparent behavioral health care.
Although often used interchangeably, psychiatrists and psychologists differ greatly in terms of service and scope. Psychiatrists are medical doctors who focus on the biological aspects of mental health. They provide diagnosis and prescribe medication. After their diagnosis they then refer a patient to a psychologist for ongoing psychotherapy. Psychologists serve the role of a counselor or therapist, and they address the cognitive and emotional aspects of mental health during sessions.
The cost of therapy depends on the length of session, type of session, and the license of the therapist. Here is the range of costs based on the frequently used codes used for therapy.
Intake and Initial Assessment (CODE: 90971) $125-$175
Psychiatric Diagnostic Assessment — Initial (90792) $200-250
Psychiatric Diagnosis Follow up (90833) $100
Individual Therapy, 50-60 minutes (90837) $100-$160
Individual Therapy, 45 minutes (90834) $75-$125
Individual Therapy, 23-35 minutes (90832) $70-$115
Family Therapy (90847, 90846) $80-$175
Group Therapy (90853) $45-$75
Crisis Therapy Session (90839, 90840) $130-$200
Stay updated on developments at MRHC.
Midwest Refuah Health Center is launching with our Behavioral Health Clinic, but plans to expand our services over the coming months and years. To be notified of new departments and developments, please sign up for our email list.
JOIN OUR MAILING LIST