Quality, low-cost pediatric care for your growing family.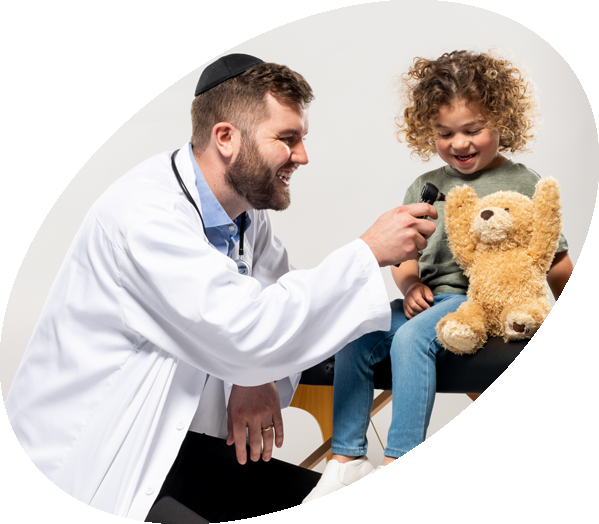 Pediatrics
Midwest Refuah's nonprofit model allows us to bring skilled medical care to the Chicago
Jewish community — regardless of insurance coverage.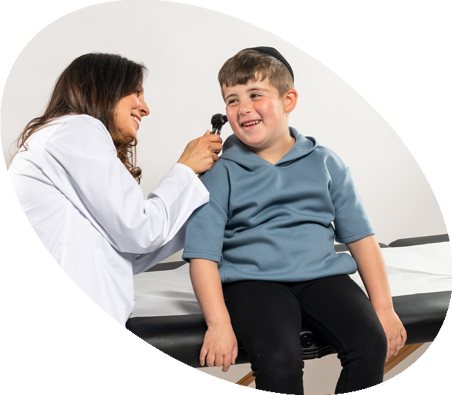 No compromise on care.
It used to be a difficult choice. If your child needed the doctor, you could choose a place that had available appointments OR convenient hours OR insurance coverage.
You couldn't have them all — but not anymore.
Midwest Refuah is a nonprofit medical organization with plans to become an FQHC (federally qualified health center). Our funding model allows us to provide experienced pediatric care at a fraction of the usual cost.
For more information or to schedule an appointment: Call (872) 270-5999 or email info@midwestrefuah.org. Refuah often has same-day availability.
Chicago families finally have top-notch pediatric care accessible to all.
More access.
It doesn't help to have low-cost care if your child can never see a doctor — either because the office is far, the schedule is all booked, or they're not available for emergencies. We over-staff our clinics, so there's always someone with availability and you don't have to wait weeks and weeks for appointments.
Centrally located in the heart of Frum Chicago
Close to major hospitals
Responsive staff who return calls quickly
Same-day and walk-in availability
After-hours care, especially around Yom Tov
For more information or to schedule an appointment: Call (872) 270-5999 or email info@midwestrefuah.org. Refuah often has same-day availability.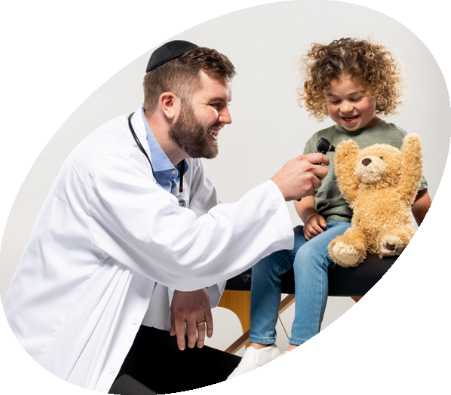 More understanding.
You don't only need your child to see a doctor. You want to be understood. Midwest Refuah created the facility and policies with the religious Jewish community in mind.
Motzei Shabbos and Erev Yom Tov hours
All materials created written with sensitivity to Frum standards
For more information or to schedule an appointment: Call (872) 270-5999 or email info@midwestrefuah.org. Refuah often has same-day availability.
More collaboration.
The doctors in all Midwest Refuah clinics seamlessly collaborate on your child's care. If you need a referral, it will be quick, and if you need to bring more than one child, you can schedule everything around the same time.
Central booking to sync schedules for similarly timed appointments
Refer to various other specialists under the same roof
Seamlessly graduate to other Refuah clinics for continuous care
For more information or to schedule an appointment: Call (872) 270-5999 or email info@midwestrefuah.org. Refuah often has same-day availability.
Hours of Operation
Monday: 8:00am- 8:00pm
Tuesday: 8:00am- 6:00pm
Wednesday: 8:00am- 6:00pm
Thursday: 8:00am- 8:00pm
Friday: 8:00am – 2:00pm
Saturday: CLOSED
Sunday: 8:00am-12:00pm
Frequently Asked Questions
Every Patient receiving services at Midwest Refuah Health Center (MRHC) has the following Rights:
To access services that will not be denied based on race, age, sex, creed, ethnic background, religion, sexual orientation, disability, HIV status, source of payment, or political beliefs (If you are under age 18, some services may require your parent's permission).
To be treated as an important member of your healthcare team and to have your choices and needs valued.
To receive care in a safe and secure environment, free from physical, verbal, or sexual harassment, swearing, or disorderly conduct.
To have your health information kept confidential.
To be treated fairly, courteously, and with respect at all times.
To know the name and title of anyone working with you.
To obtain from an appropriate MRHC professional complete current information concerning diagnosis, treatment, prognosis, and plan of care in terms you can be reasonably expected to understand.
To receive information necessary to give informed consent prior to the start of any procedure and/or treatment from the MRHC professional.
To refuse services or treatment, or any part of it, or to stop services or treatment when you wish and to be informed of the consequences resulting from your refusal.
To ask for the services of an interpreter.
To continue to receive services if your financial services or insured status has changed.
Every Patient receiving service at Midwest Refuah Health Center has the following Responsibilities:
To provide to the best of your knowledge, accurate information about present complaints, past illnesses, hospitalizations, medications, and other pertinent matters relating to the care plan.
To let us know if you feel you are being treated unfairly.
To ask questions until you clearly comprehend the proposed course of action and what is expected of you.
To comply with the plan of care recommended by the health care professional.
To understand that refusal of treatment or failure to follow the MRHC professional's instructions could result in undesirable outcomes, for which the patient and/or family accept responsibility.
To take an active role in your own health care.
To provide all necessary information regarding demographics, third party payor sources or health insurance plans.
To observe MRHC's policies and procedures.
To keep scheduled appointments and advise MRHC if canceling in a timely manner.
We at MRHC respect your privacy. We are required by law to maintain the privacy of "protected health information" about you, to notify you of our legal duties and legal rights, and to follow the privacy policies described in our Notice of Privacy Practices. Protected Health Information (PHI) means any information that we create or receive that identifies you and is related to your health or payment of services for you. Every patient is given an NPP that explains how MRHC may use or disclose your information for treatment, payment or operational purposes, as well as your legal rights regarding that information. Every patient is asked to sign a consent form to permit all such uses and disclosures. If you have any questions about our policies and procedures, please do not hesitate to ask. You can also submit a complaint to the Office of Civil Rights, U. S. Department of Health and Human Services (1-800-368-1019). We will never retaliate against you for filing a complaint.
We appreciate all patient feedback and encourage you to offer us the opportunity to address any concerns or complaints you may have. If you feel that you have been treated unfairly, that your rights have been violated or that the quality of the service you received were poor, please consider taking one of the following steps:
If you feel comfortable, please discuss the concern/complaint with the staff member offering your services. The staff member will attempt to resolve the concern or complaint and inform you about the available alternatives or actions they can take to resolve your concern/complaint.
If you are not comfortable speaking directly with the staff member, you can speak with that staff member's supervisor.
You can also fill out a grievance form which is available at all reception desks and on our website.
You will receive feedback on your grievance within 7 business days.
You will not be penalized for registering a grievance.
If you need to cancel your scheduled appointment, please call us at least 24 hours before your appointment time so that your appointment slot can be given to another patient
You may be discharged from the health center if you no-show more than 3 times in a 6-month period
If you or a loved one are having a medical emergency:
Please call Hatzalah at 847-504-1500 or 911 or go to your nearest emergency room
If you are not having an emergency, but you are not feeling well at a time when MRHC is not open, please dial our regular number and ask to be transferred to our on-call provider.
MRHC will always have a provider on call that can help you decide if you need to see a doctor or go to your local emergency room.
If you are sick, you can call us to make a same-day appointment. We also offer walk-in pediatric hours from 8:15-9:15 Monday-Friday.
Please call MRHC at 872-270-5999 and follow the prompts.
For the Pediatrics Department dial 1
Please have the following information available when you call:
Patient's first and last name
Patient's date of birth
A telephone number where we can call and/or text you to remind you of your appointment
Insurance information if applicable
MRHC serves all patients, regardless of whether or not you have insurance, your ability to pay or your immigration status.
If you have insurance, please bring the following information to your appointment:
Picture ID
Insurance card
Any relevant medical history (immunizations, past medical history etc.)
Medication list
If you do not have insurance, you may be eligible for a discount with our sliding fee discount program
Midwest Refuah Health Center (MRHC) is committed to patient centered care regardless of the patient's ability to pay. Discounts are offered based upon household income and the number of people living in the household. A sliding fee scale is used to calculate the basic discount and is updated every year using Federal Poverty Guidelines (FPG). Once approved, the discount will be honored for one year from the date of application, after which the patient must reapply. The sliding fee discount is available to all uninsured or underinsured patients. If you have insurance coverage, MRHC is required to bill your insurance for your medical visit charges. Any co-pays, co-insurances or other out-of-pocket costs, not covered by insurance may be eligible for a Sliding Fee Discount, unless prohibited by your insurance provider. Depending on household size and household income, patients are assigned a discount level.
Discount
level
Level A
100% &
< FPG
Level B
>101-125%
FPG
Level C
126-150%
FPG
Level D
151-175%
FPG
Level E
176-200%
FPG
Level F
>200% FPG
Minimum
Fee
$25
$30
$35
$40
$45
Full Fee
Patients that qualify for the discounted fees are responsible only for the minimum fee in their respective level and are expected to pay the discounted fee at
the time of service unless other arrangements have been made. In addition to this application, you will need to provide the following documents:
A. Proof of income for you and anyone who is in your household. The following items may be used as proof of income:
W-2 Forms
Two most current pay stubs
Income tax returns
Any other income documentation (i.e., statement of unemployment benefits, social security benefit letter, public assistance benefits letter, child support and/or alimony etc.)
If you are not working and do not have a source of income, a letter of support from the sustaining party or individual you are living with. If you
are unable to prove your income upon the first visit, you may self-attest your income for 7 days.
B. Proof of Identification:
Driver's License, State Identification Card, Birth Certificate, Illinois Medicaid Identification card, Utility Bill, Passport, and Alien Registration card or "green card".
C. Cost of Living Documentation:
Monthly mortgage or rent (ie lease, mortgage bill)
Medical bill debt (medical bill)
Tuition or childcare bill
Legal expenses
Midwest Refuah Health Center
Sliding Fee Discount Schedule
Based on Federal (FPL) Guidelines for: 2023
% of FPL:
0%-100%
101% to 125%
126% to 150%
151% to 175%
176% to 200%
> 200%
Family Size
At or Below
At least
At or Below
At least
At or Below
At least
At or Below
At least
At or Below
At least
1
$14,580
$14,581
$18,225
$18,226
$21,870
$21,871
$25,515
$25,516
$29,160
$29,161
2
$19,720
$19,721
$24,650
$24,651
$29,580
$29,581
$34, 510
$34,511
$39,440
$39,441
3
$24,860
$24,861
$31,075
$31,076
$37,290
$37,291
$43,505
$43,506
$49,720
$49,720
4
$30,000
$30,001
$37,500
$37,501
$45,000
$45,001
$52,500
$52,501
$60,000
$60,001
5
$35,140
$35,141
$43,925
$43,926
$52,710
$52,711
$61,495
$61,496
$70,280
$70,281
6
$40,280
$40,281
$50,350
$50,351
$60,420
$60,421
$70,490
$70,491
$80,560
$80,561
7
$45,420
$45,421
$56.775
$56.776
$68,130
$68,131
$79,485
$79,486
$90,840
$90,841
8
$50,560
$50,561
$63,200
$63,201
$75,840
$75,841
$88,480
$88,481
$101,120
$101,121
9
$55,700
$55,701
$69,625
$69,626
$83,550
$83,551
$97,475
$97,476
$111,400
$111,401
10
$60,840
$60,841
$76,050
$76,051
$91,260
$91,261
$106,470
$106,471
$121,680
$121.681
Additional person > 10:
Add $5,140 for each additional person
MRHC accepts many different forms of insurance (please see FAQ "insurances accepted")
Payment is preferred at the time of service
You can also make payments in your patient portal Patient Portal
Pediatric Clinic:
Mondays: 8am-8pm
Tuesdays: 8am-6pm
Wednesdays: 8am-6pm
Thursdays: 8am-8pm
Fridays: 8am-2pm
Saturdays: Closed
Sundays: 9am-12pm
You may receive a short text from us asking how we did after your appointment. We appreciate your response and feedback. It helps us get better for you!
Patient comment cards are also available at all front desks.
Medication Refills
The best and quickest way to refill a prescription is to talk to your pharmacy. If you are having issues with your pharmacy, call MRHC. You can also message your provider in your MRHC portal.
Referrals
If you need tests or services not offered at MRHC, we are working on partnering with several local hospitals.
If you are currently insured, we will work with you to refer you to a hospital partner based on your insurance plan's requirements.
If you are not insured, we will work with our hospital partners to meet all of your screening, diagnostic and specialty treatment needs.
MRHC can provide you with a copy of your medical and immunization records at any time. You can see and print most of your MRHC medical record from your MRHC Portal. However, to protect your privacy, any release of records requires authorization to comply with our Notice of Privacy Practices. You can get a copy of our medical release form from any MRHC front desk.
If you are a new patient, please arrive 30 minutes before your first scheduled appointment time. If you are a returning patient, please arrive 15 minutes before your appointment time to register.
MRHC is currently enrolling with most insurance companies. This process takes time. We are currently in network with Medicare and Medicaid and pending with all others.
If you prefer to speak in a language other than English, MRHC will arrange for an interpreter to be available over the phone or by video.
Chicago's experienced pediatricians are right around your corner
We're proud of the highly trained staff working in our pediatric clinic. Each of them prioritizes your child's health, understands your concerns as a Jewish parent, and will do everything they can to keep your kids happy, healthy – and thriving.
Join the pediatric clinic that understands — and is here to make medicine as
accessible to your family as possible.
Midwest Refuah Health Center is launching with our Behavioral Health Clinic, and plans to expand our services over the coming months and years. To be notified of new departments and developments, please sign up for our email list.
JOIN OUR MAILING LIST