Quality, low-cost pediatric care for your growing family.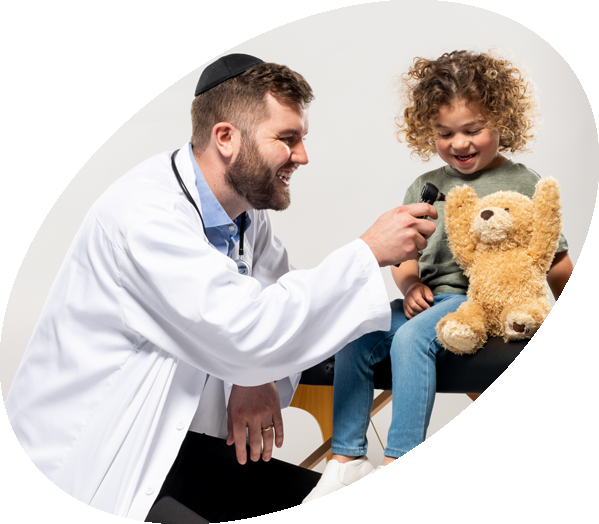 Pediatrics
Midwest Refuah's nonprofit model allows us to bring skilled medical care to the Chicago
Jewish community — regardless of insurance coverage.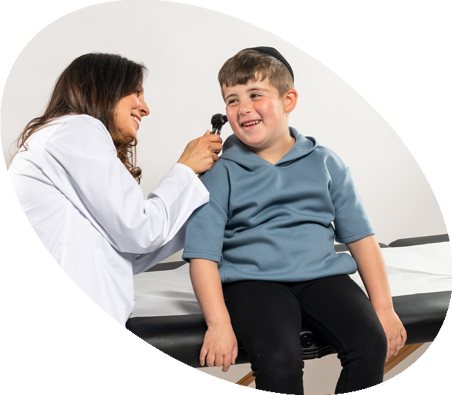 No compromise on care.
It used to be a difficult choice. If your child needed the doctor, you could choose a place that had available appointments OR convenient hours OR insurance coverage.
You couldn't have them all — but not anymore.
Midwest Refuah is a nonprofit medical organization with plans to become an FQHC (federally qualified health center). Our funding model allows us to provide experienced pediatric care at a fraction of the usual cost.
For more information or to schedule an appointment: Call (872) 270-5999 or email info@midwestrefuah.org. Refuah often has same-day availability.
Chicago's experienced pediatricians are right around your corner.
We're proud of the highly trained staff working in our pediatric clinic. Each of them prioritizes your child's health, understands your
concerns as a Jewish parent, and will do everything they can to keep your kids happy, healthy — and thriving.
Dr. Jennie Berkovich, Peds
Dr. Berkovich graduated medical school in 2013 and did her residency at Nicklaus Children's Hospital (formerly Miami Children's Hospital). More recently, she's worked as a medical director of telehealth for a large multi-state practice.
Dr. Berkovich was the American College of Osteopathic Pediatricians Resident of the Year (2016) and received the Arturo J. Aballi MD Educational Award.
"I spent the majority of my life in Chicago and look forward to an opportunity to give back. Having culturally sensitive and accessible care is truly revolutionary. Having a place like MRHC allows us to truly serve our community's medical needs in a framework that's comfortable, affordable, and accessible to all." — Dr. Jennie Berkovich
Dr. Moshe Singer, Peds & Emergency Medicine
Dr. Singer attended the George Washington University School of Medicine and, upon graduation, moved to Chicago for residency at Advocate Children's Hospital and Lutheran General Hospital.
He has extensive experience with pediatrics, especially from working in the emergency department at Northwest Community Hospital in Arlington Heights.
"Midwest Refuah gives us the opportunity to provide medical care to the community and help change the landscape of Pediatric medicine in Chicago. Patients receive the time and expertise that they deserve during every visit." — Dr. Moshe Singer
Dr. Sneha Raj Abichandani, Peds
Dr. Abichandani received her medical degree at I.M. Sechenov Medical University and trained in pediatrics at St. John Hospital in Detroit.
She has worked in FQHCs before, which reiterated her commitment to guide families on their children's journeys to lifelong health.
"I love that when working at an FQHC, I can bridge the gaps in healthcare to make a significant difference in a child's life, create a lasting bond with their families, and contribute to a better world." — Dr. Sneha Abichandani
Join the pediatric clinic that understands — and is here to make medicine as
accessible to your family as possible.
Midwest Refuah Health Center is launching with our Behavioral Health Clinic, and plans to expand our services over the coming months and years. To be notified of new departments and developments, please sign up for our email list.
JOIN OUR MAILING LIST